Die Datenbank und ihre Bedienung
Introduction
Die Navigation innerhalb von AIGYPTOS erfolgt über die Reiter [Einführung], [Recherche], [Ergebnis], [Merkliste] und [Impressum].You can navigate in AIGYPTOS using the tabs [Introduction], [Search], [Result], [Clipboard] and [Legal Notice].
Mit der Zurückfunktion Ihres Internetbrowsers hingegen verlassen Sie AIGYPTOS und löschen alle bisherigen Suchanfragen und Ergebnislisten.The browser back button, however, will take you away from AIGYPTOS and clear all your search queries and results.
1. Die Felder der Datenbank
1. The database fields
Die bibliographische Aufnahme der Literatur verteilt sich auf folgende Datenbankfelder:The bibliographical data of each publication is assigned to the following fields:
Autoren

author

Herausgeber (bei der Recherche werden die Felder Autor und Herausgeber zusammen durchsucht)

editor

Titel

title

Serie/Reihe (Zeitschriftenband, Reihe, Sammelband jedweder Art)

series (periodical, congress papers, festschrift and similar)

Verlagsort

place of publication

Verlag

publisher

Erscheinungsjahr

year of publication

Jahr (bei der Recherche werden die Felder Erscheinungsjahr und Jahr zusammen durchsucht)

year (when a congress took place or a Ph.D. thesis was accepted, for example)

Verfasservorlageform (Verfassername in der Form, wie sie im konkreten Werk angegeben ist)

author statement

Einheitssachtitel (Titel in der Originalsprache)

uniform title

Paralleltitel (parallel angegebener Titel in anderer Sprache)

parallel title

Nebentitel (von der Haupttitelseite abweichende Titel)

variant title

Körperschaften (an der Publikation beteiligte Institutionen)

corporate body

Hochschulschrift (Magisterarbeit oder Dissertation)

university publication (academic thesis)

Gefeierte Person (Widmungsträger einer Festschrift)

person honoured

Ausgabe

edition

Umfangsangabe

pagination

Illustrationen (Ill.), Graphiken und Diagramme (graph. Darst.), Karten und Pläne (Kt.)

illustrations

Begleitmaterial (Landkarten oder digitale Medien)

accompanying material (plans or digital media)

Medienart

media type

Internetadressen (URL) von Publikationen und Rezensionen

URL

ISBN
ISSN

Sprache

language
Zu diesen bibliographischen Grunddaten kommt eine detaillierte inhaltliche Aufnahme, die sich auf zwei Felder verteilt:The subject indexing is divided into two fields:
Fachgebiete (eine Grobklassifizierung in 15 Einzelgebiete):

subjects (rough classification in 15 subdivisions):

Allgemeines

general

Archäologie

archaeology

Demotistik

Demotic studies

Geographie und Topographie

geography and topography

Geschichte

history

Gesellschaft und Kultur

society and culture

Koptologie

Coptic studies

Kunst

art

Nachbargebiete

neighbouring subjects

Natürliche Umwelt

habitat and environment

Nubiologie und Meroitistik

Nubian and Meroitic studies

Papyrologie

papyrology

Philologie

philology

Religion

religion

Wissenschaft und Technik

science and technology

Schlagwörter

keywords (this is the field where the bulk of the subject indexing is done)
Zusätzlich gibt es die Felder:Further entries:
Kommentar (zusätzliche Anmerkungen und Informationen für den Benutzer)

comment (helpful notes for the user)

Rezensionen

reviews

Signatur München (Institutsbibliothek)

Munich Shelfmark (Faculty Library)

Signatur Heidelberg (Universitätsbibliothek) (in der Ergebnisvollanzeige und der Merkliste mit Link zum Heidelberger OPAC, über den Sie die recherchierte Literatur beim Bibliothekslieferdienst SUBITO zur Ausleihe nach Hause bestellen können)

Heidelberg Shelfmark (University Library)

Signatur SMÄK (Bibliothek des Staatlichen Museums Ägyptischer Kunst in München)

SMEA Shelfmark (Library of the State Museum of Egyptian Art in Munich)
2. Erstellung einer Suchanfrage
2. Creating a query
Im Rechercheformular sind fünf Suchfelder voreingestellt: [Autor], [Titel] (inklusive Paralleltitel, Nebentitel, Einheitssachtitel), [Serie/Reihe], [Erscheinungsjahr] und [Schlagwort]. Sollten Sie andere Suchfelder wünschen, können Sie die voreingestellten Felder leicht durch diese ersetzen: Ein Mausklick auf eine der Suchfeldbezeichnungen öffnet in einem Dropdown-Menu eine Liste aller für die Recherche verfügbaren Suchfelder (siehe Abbildung 1), aus der Sie per Mausklick ein anderes auwählen können.In the query tab, five search fields are preselected: [Author], [Title], [Periodical/Series], [Year of Publication] and [Keyword]. By clicking one of the field names, a drop-down list containing all the other available search fields will appear (see figure 1). If you click one of the search fields in the list, you can replace the preselected field.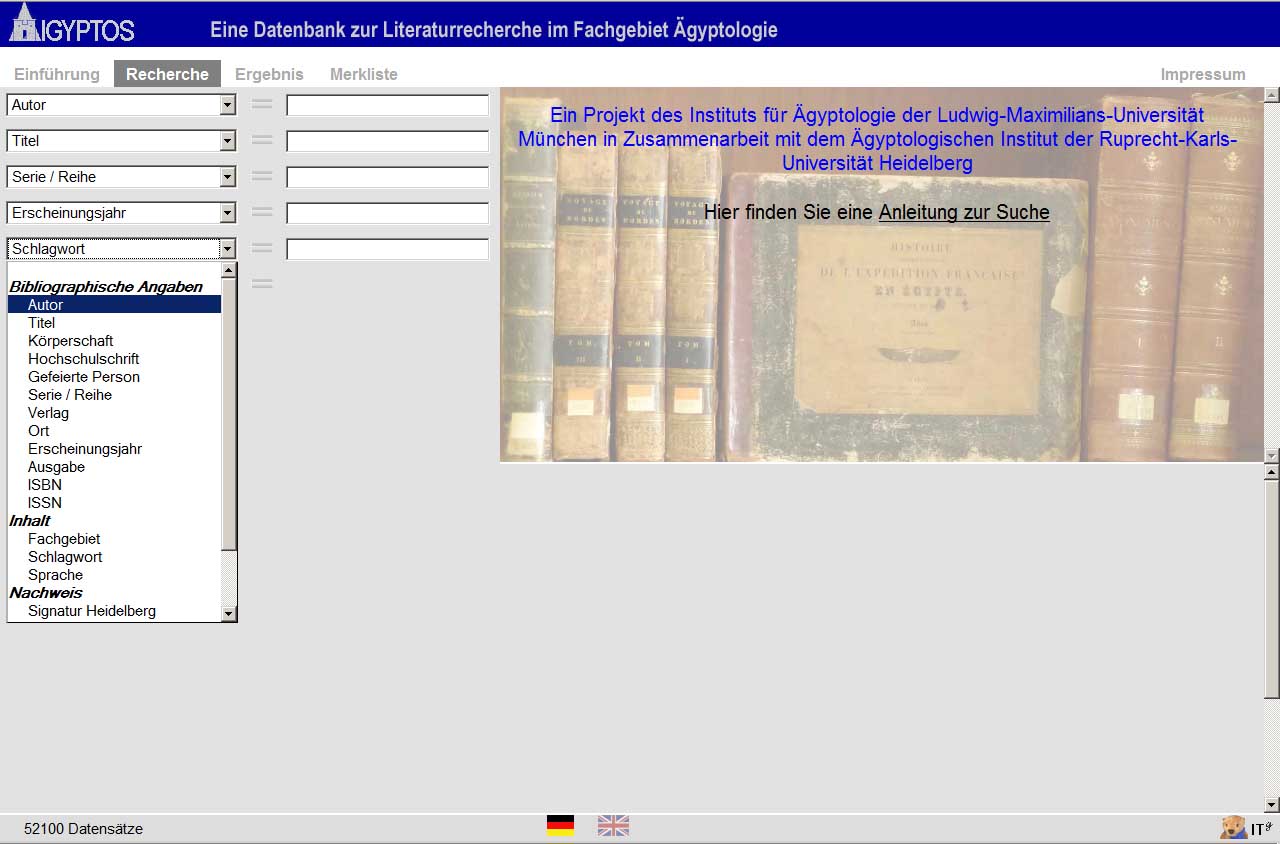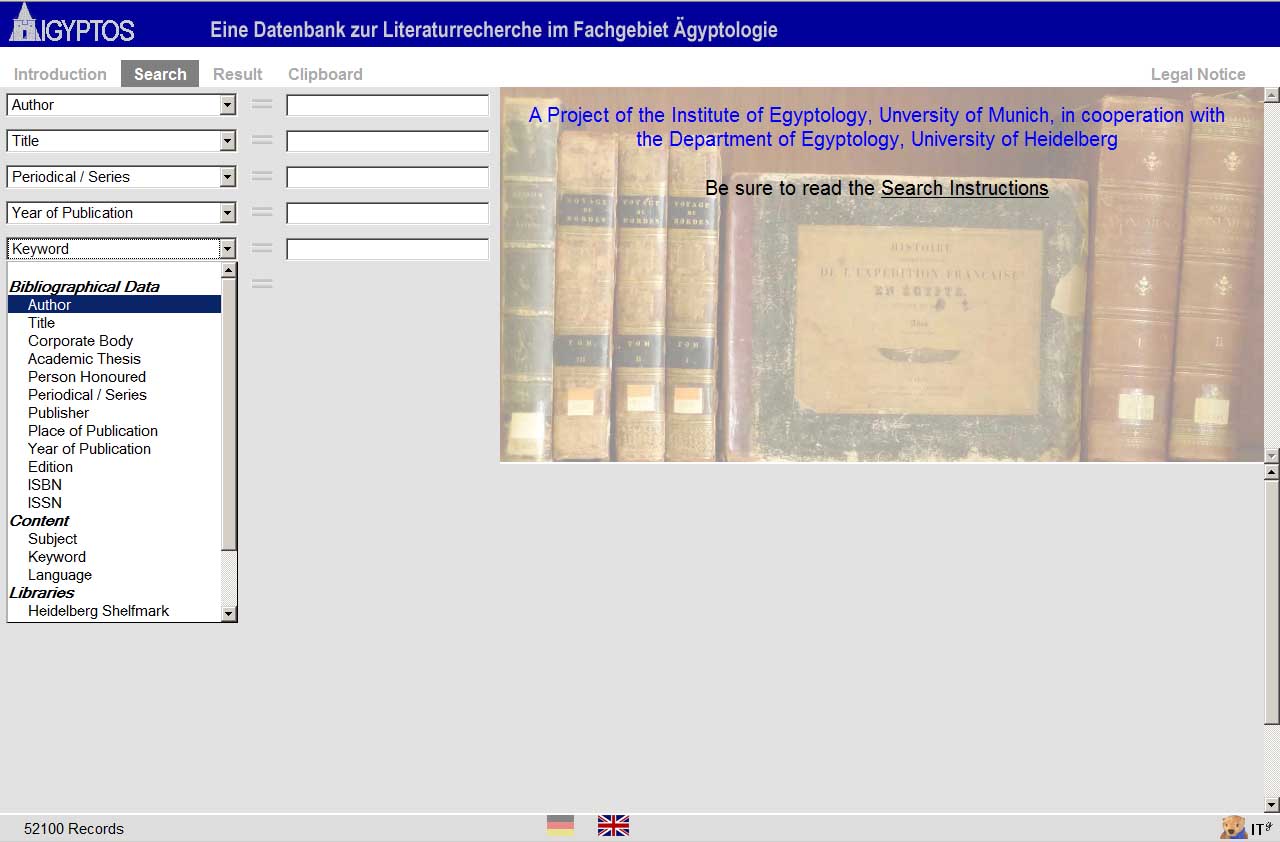 Sobald Sie ein Zeichen in eines der Suchfelder eingetragen haben, öffnet sich der Index des betreffenden Feldes in Form einer Dropdown-Liste (siehe Abbildung 2). Der angezeigte Index passt sich Ihrer Eingabe an und zeigt alle Einträge in alphabetischer Reihenfolge ab der von Ihnen eingegebenen Zeichen­folge an. Aus Gründen der Geschwindigkeit umfasst die Indexanzeige immer nur die Einträge des jeweiligen Anfangsbuchstabens. Zeigen Sie mit der Maus auf einen der Index­einträge, so erscheint ein kleines Hinweisfeld mit einer Zahl, die Ihnen anzeigt, in wie vielen Datensätzen dieser Begriff vergeben ist (siehe Abbildung 2). Dies ist insbesondere für die Schlagwortsuche von Bedeutung, da Sie auf diese Weise schnell feststellen können, ob sich die Suche nach diesem einen Schlagwort lohnt, oder ob die Treffermenge so hoch ist (z.B. bei übergeordneten Begriffen wie Stele NR), dass Sie die Suche durch Verknüpfung mit einem weiteren Suchbegriff einschränken sollten.As soon as you have entered a character into one of the search fields a drop-down index will pop up (see figure 2) showing all entries of the particular search field in alphabetical order starting with the letter(s) or character(s) you have entered so far. In order to keep the performance as fast as possible, the index only shows entries for one initial letter. While pointing to one of the index entries with your mouse, a tooltip will appear showing how many times this entry has been allocated in the database (see figure 2). This is especially helpful concerning the field keyword, because thus you can see at one glance whether it is feasible to search for this keyword alone or if you should combine it with other keywords to specify your query.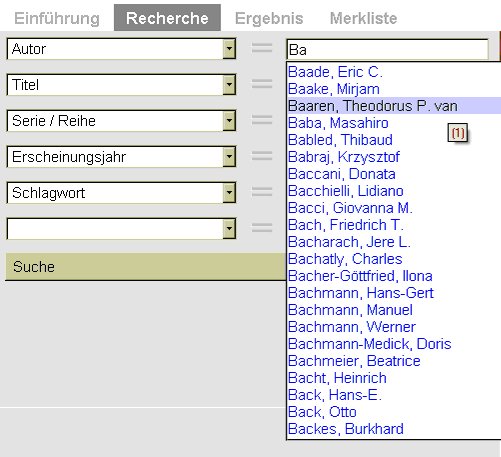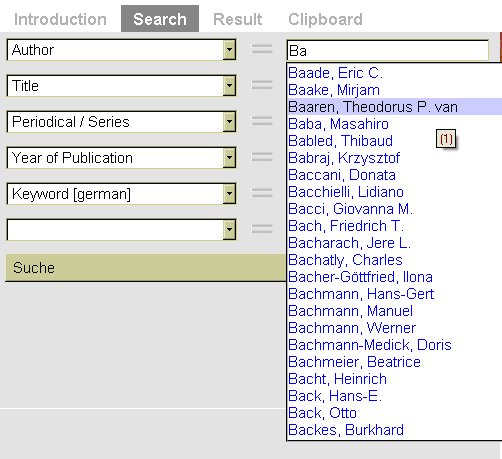 Durch Klick mit der linken Maustaste auf einen der Index­einträge übernehmen Sie diesen Eintrag in das Suchfeld.You can select an index entry by clicking it.
Die Suche nach Autorennamen erfolgt mit automatischer Rechtstrunkierung. Es genügt also, den Familien­namen eines Autors einzugeben und die Suche zu starten. Beachten Sie dabei aber, dass durch eine solche Suche Treffer zu verschiedenen Autoren desselben Familien­namens erzeugt werden (z.B. "Arnold, Dieter", "Arnold, Dorothea", "Arnold, Felix", und "Arnold, Ingo").The search for authors' names is operated with right truncation by default. So, it will for example suffice to enter the family name and start the query.
Im Feld [Serie/Reihe] ist die Suche dadurch erleichtert, dass Reihentitel und Bandnummer getrennt von­einander recherchierbar und die oft sehr komplexen Angaben bei Sammelbänden in logische Einheiten aufgegliedert sind (z.B. in Titel, Symposiums­angabe, Reihe, Bandnummer). So finden Sie etwa Band 20 der Zeitschrift MDAIK gezielt durch die Suchanfrage: [Serie/Reihe] = MDAIK + [Serie/Reihe] = 20 (siehe Abbildung 3).In the field [periodical/series] you can look for the title of a journal or series and/or separately for its volume number. The sometimes rather complicated data of congress papers and Festschriften is split up into logical items (e.g. title, location of the congress, series, volume number). This allows you for example to search directly for a specific volume of a journal, e.g. volume 20 of MDAIK (see figure 3).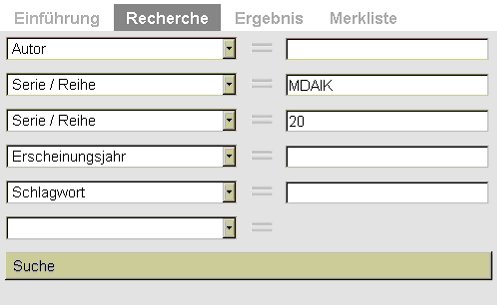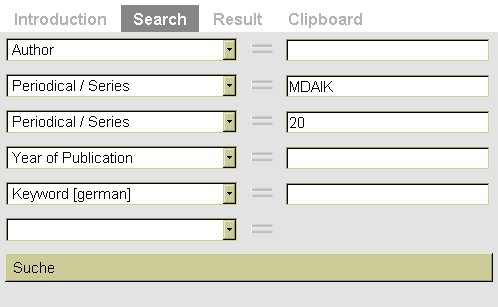 Fest- und Gedenkschriften finden Sie leicht über das Suchfeld [Gefeierte Person]. Geben Sie dort einfach den Namen der geehrten Person ein. Die Namens­formen entsprechen denen der Felder [Autor] und [Herausgeber] (siehe oben).Festschriften and Gedenkschriften can be found easily by searching for the name in the field [person honoured].
Im Feld [Schlagwort] vermittelt das Scrollen durch den Dropdown-Index einen guten Überblick über die verwendeten Suchbegriffe, was für deren korrekte Auswahl und Zusammen­stellung sehr nützlich sein kann (siehe Abbildung 4).In the field [keyword], scrolling through the index list can provide you with a general survey of the employed keywords. This can be very useful for the correct selection and combination of the keywords (see figure 4).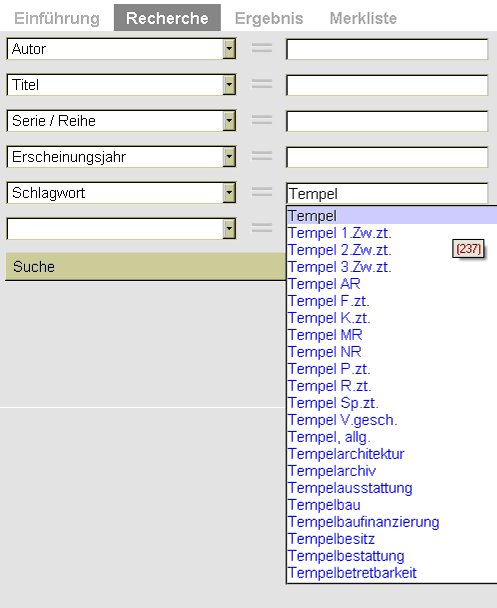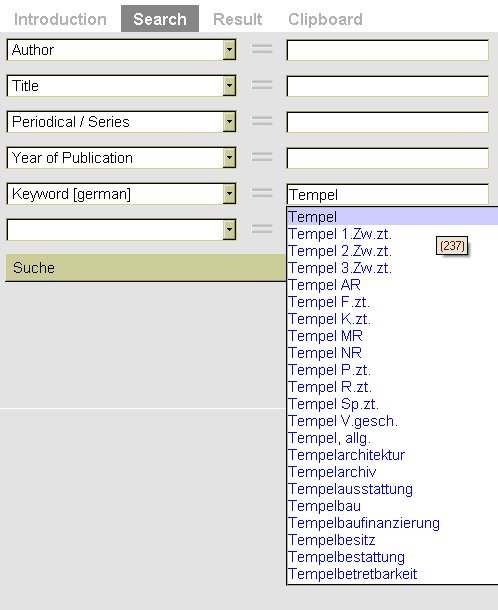 Die Datenbank ist so konzipiert, dass sie sehr vielfältige Suchmöglichkeiten erlaubt, von der einfachen Suche nach einem Autor oder einem Schlagwort bis hin zu komplexen Rechercheanfragen mit unterschiedlichen mathematischen Verknüpfungen quer durch alle Datenbankfelder: Sie können mehrere Suchbegriffe durch [und], [oder] sowie [und nicht] Verknüpfungen miteinander verbinden.The database allows extremely varied queries. Ranging from a simple search for an author or a single search term to complex combinations of several search terms covering all fields of the database. Search terms can be combined using the logic operators [and] (conjunction), [or] (disjunction) as well as [and not].
[und] Verknüpfungen bestehen automatisch zwischen den einzelnen Suchfeldern der Suchmaske. Um zwei Begriffe desselben Suchfeldes mit [und] zu verknüpfen, muss das Suchfeld in der Suchmaske zweimal eingestellt und jeweils ein Begriff in eines der Felder eingetragen werden (Beispiel: [Schlagwort] = Königsgrab AR + [Schlagwort] = Gisa) (siehe Abbildung 5).When combining several search terms from different searchfields they will automatically be connected with the [and] operator. If you want to combine search terms belonging to one single searchfield with [and], you have to enter every search term in a separate field (see figure 5).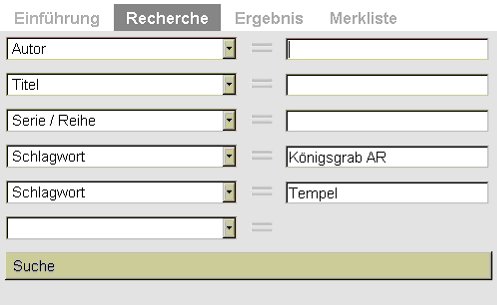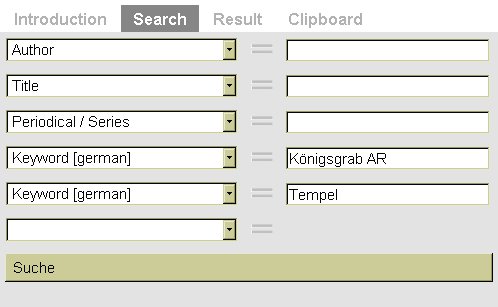 [oder] Verknüpfungen können nur zwischen Begriffen desselben Suchfeldes hergestellt werden, und zwar durch Eingabe des Zeichens | (senkrechter Strich) zwischen zwei Suchbegriffen (Beispiel: [Schlagwort] = Tempel NR|Tempel MR) (siehe Abbildung 6).When combining several search terms within a single search field, you can use the "|" (vertical stroke) operator between two or more search terms (see figure 6).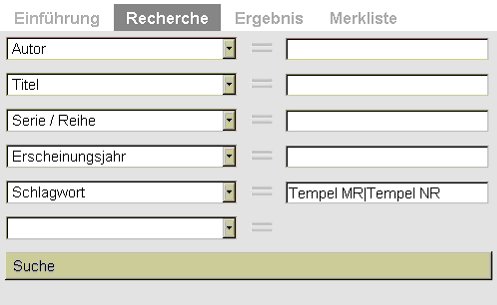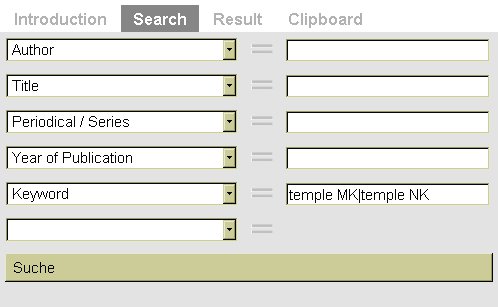 [und nicht] Verknüpfungen werden durch Mausklick auf das [=] Zeichen erzeugt. Das [=] Zeichen erscheint dann durchgestrichen. So liefert z.B. die Suche nach [Autor] = Helck, Wolfgang und nicht [Jahr] = 1980 alle Einträge zum Autor Wolfgang Helck, die nicht im Jahr 1980 erschienen sind (siehe Abbildung 7).By clicking the [=] sign, you create the [and not] combination (the [=] sign will then appear crossed out) (see figure 7).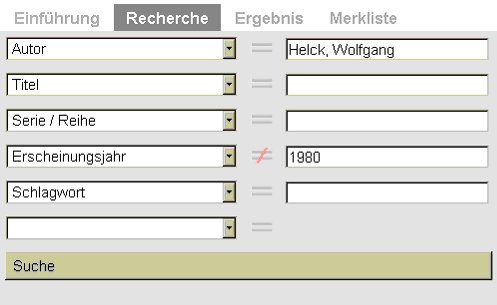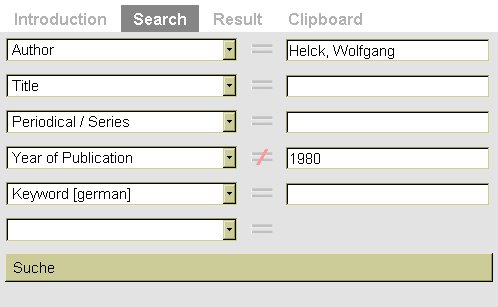 Das Jokerzeichen * (Sternchen) steht für eine beliebige Zeichen­folge.The asterisk * can be used as a wildcard to replace any string.
Möchten Sie eine neue Suche starten und alle Ihre bisherigen Einträge und Ergebnisse löschen, so drücken Sie die Taste F5 (Vorsicht: damit ist auch die Merkliste gelöscht!).If you want to reset the application and delete your clipboard (see below), press the F5 key.
Möchten Sie sich beispielsweise über neuere Literatur zur Baugeschichte des Amuntempels in Karnak unter Thutmosis II. informieren, dann verwenden Sie die entsprechenden vier Suchbegriffe, die Sie jeweils auf einer eigenen Zeile in das Suchfeld [Schlagwort] eintragen (siehe Abbildung 8).To give an example of a complex query: If you want to inform yourself about the building history of the great temple of Amun at Karnak during the reign of Thutmosis II, you should type in the following [Keyword] entries, each one on a separate line (see figure 8).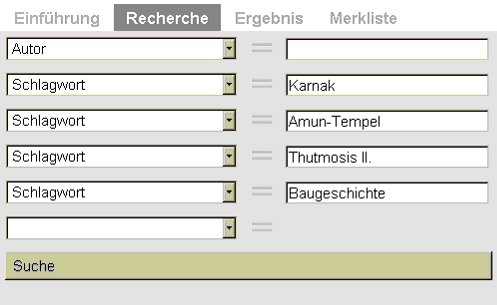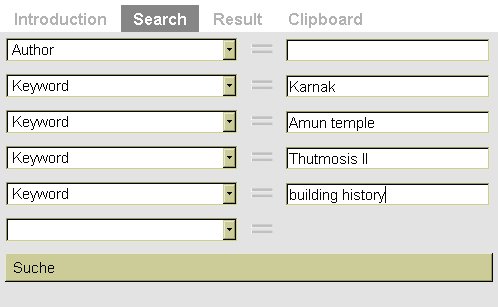 Um die Suche zu starten, klicken Sie auf den Button [Suche] oder drücken die Eingabetaste.To submit your query, click the [Search] button or press the enter key.
3. Anzeige der Suchergebnisse
3. Query Results
Die Suchergebnisse erhalten sie zunächst in Form einer Übersichtstabelle (siehe Abbildung 9) die im Reiter [Ergebnis] dargestellt wird, zu dem die Bildschirmansicht nach gestarteter Suche automatisch wechselt. Diese Tabelle enthält ausschließlich die bibliographischen Grunddaten (Autor/Herausgeber, Titel, Serie/Reihe, Erscheinungsort, Erscheinungsjahr und drei Signaturfelder).The results of your query are shown in three different views: 1. record overview (table); 2. record details; 3. clipboard (details of more than one record)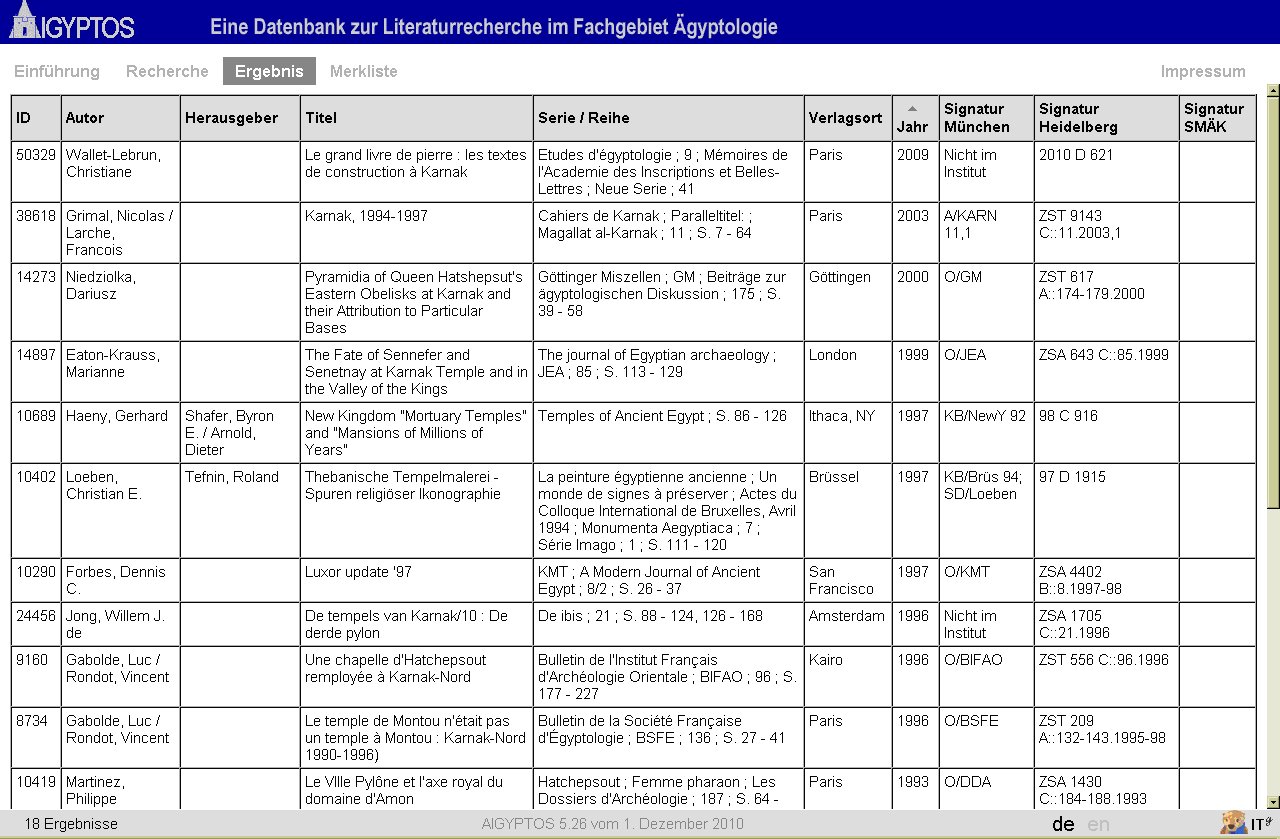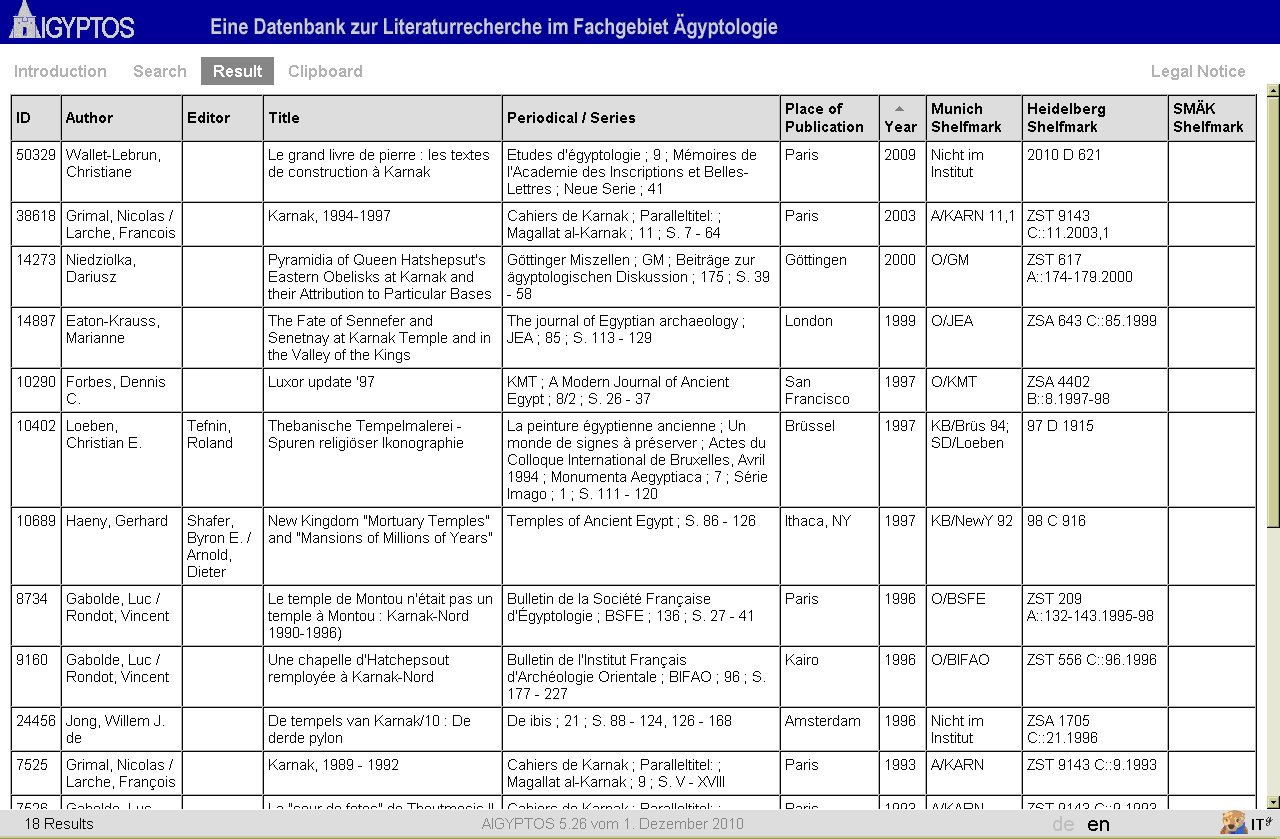 Die Einträge der Übersichtstabelle können durch Klick mit der linken Maustaste auf die Kopfzeile einer der Kolumnen sortiert werden, durch nochmaligen Klick auf dieselbe Kopfzeile kehrt sich die Sortierung um: Klicken Sie z.B. auf den Kopfeintrag der Kolumne [Jahr], so werden die Ergebnisse aufsteigend nach Jahren sortiert, bei nochmaligem Klick erfolgt die Sortierung absteigend. In Abbildung 9 ist die Tabelle absteigend nach Jahren sortiert. Dies wird angezeigt durch ein kleines Dreieck links neben der Beschriftung des gewählten Kolumnenkopfes.ad 1: The results are at first presented as a table containing the basic bibliographical data within the [Result] tab (see figure 9). You can sort the table alphabetically or by year by left-clicking on one of the columns' headings. Another click will invert the sort sequence. In this way you can, for example, click the heading of the column [year] to sort the table chronologically. The heading year will then be marked by a small triangle.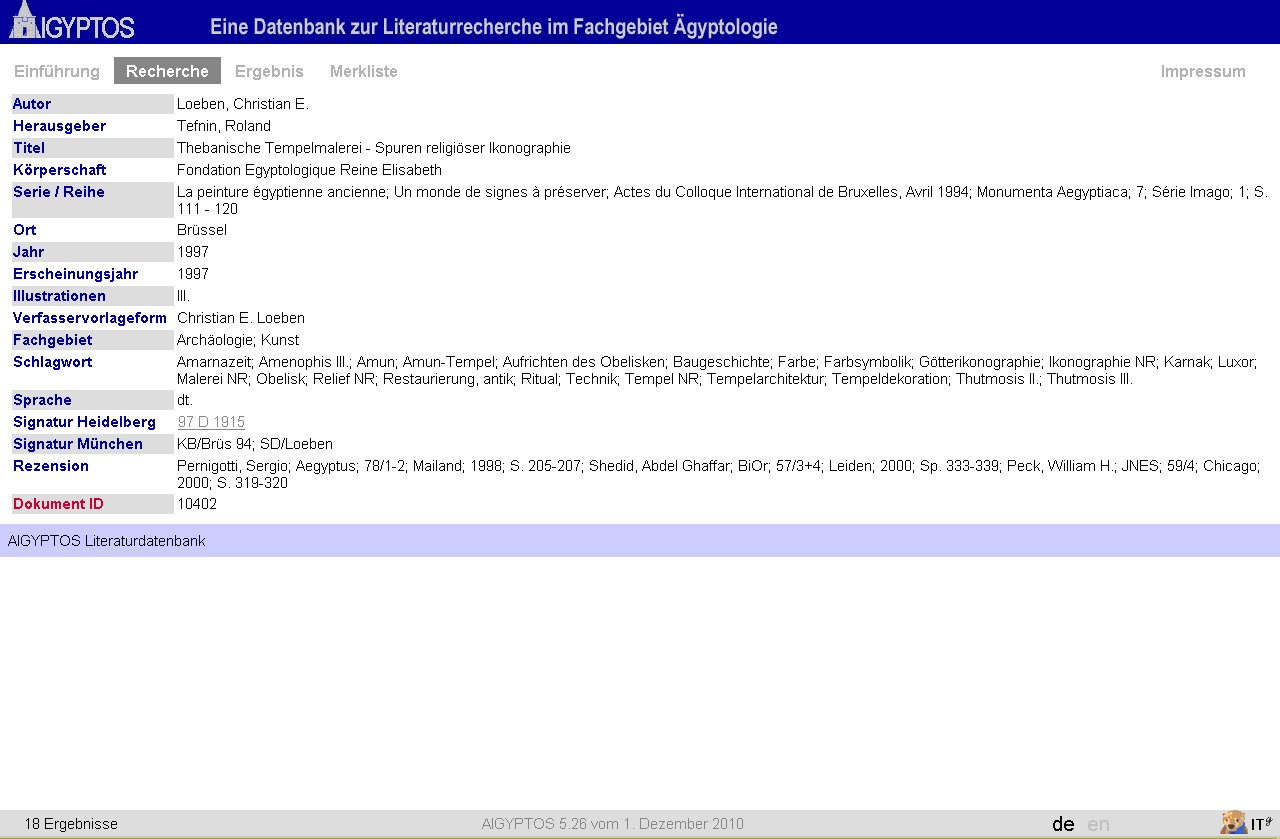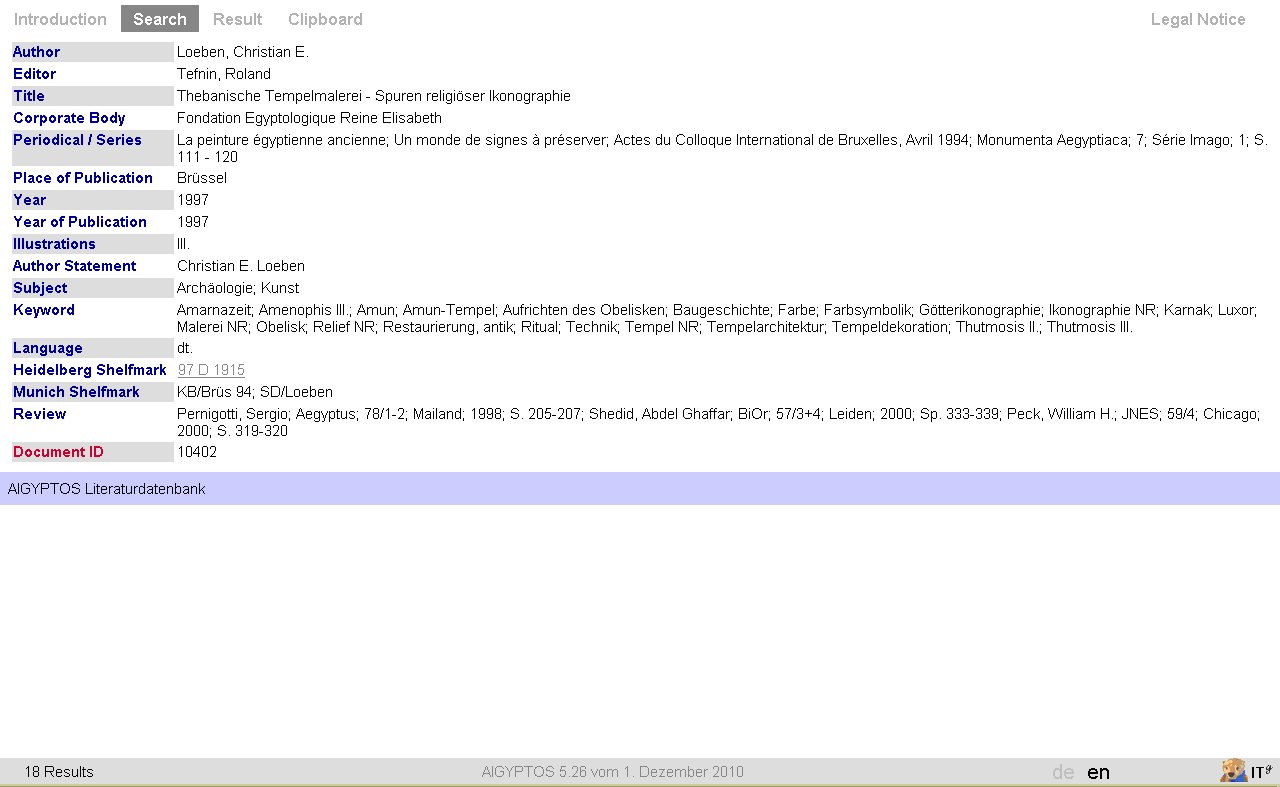 Möchten Sie sich zu einer der Literaturangaben das Dossier im Detail anschauen, so klicken Sie mit der linken Maustaste irgendwo auf die betreffende Zeile und öffnen damit die Dokumentvollanzeige mit allen Feldeinträgen zu diesem einen Datensatz (siehe Abbildung 10).If you want to see all details for one single record, left-click the line within the table and the record detail will show up (see figure 10). To get back to the table, click the [Result] tab.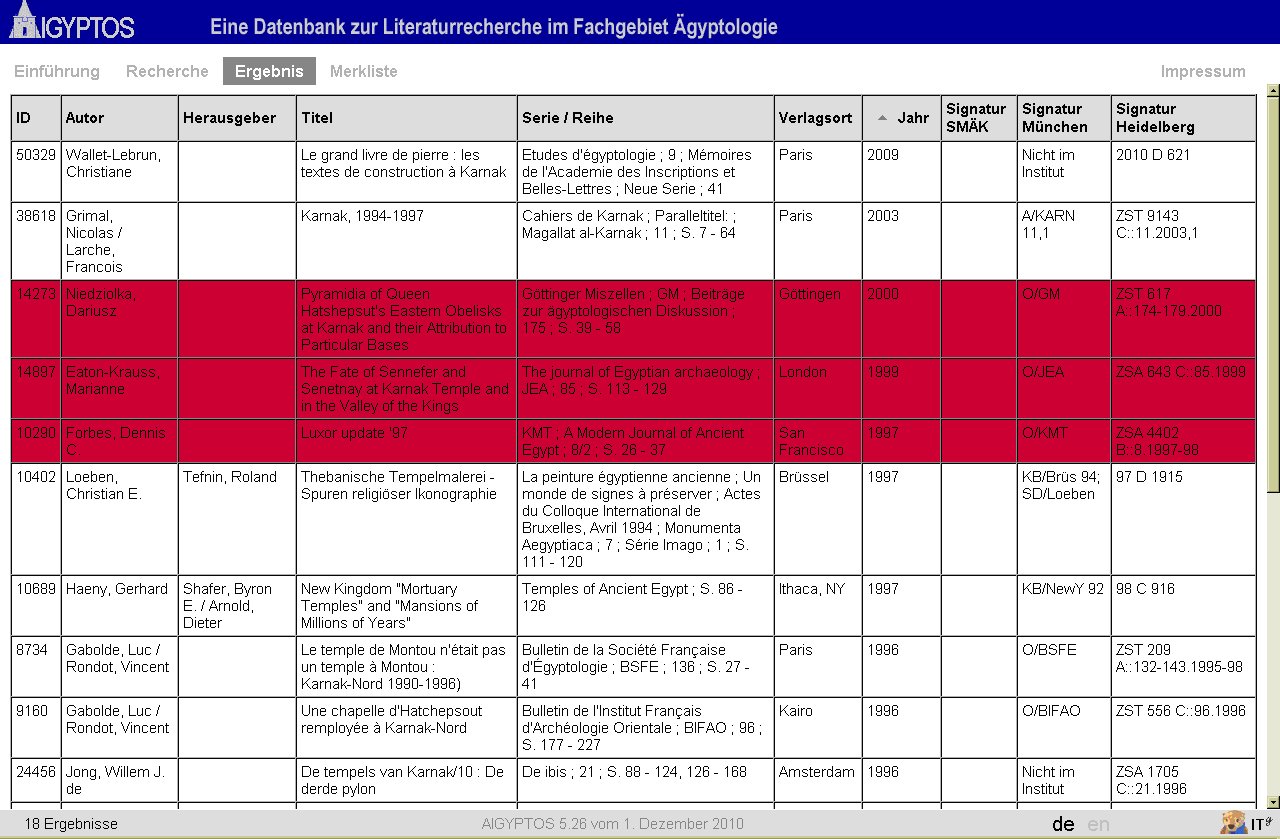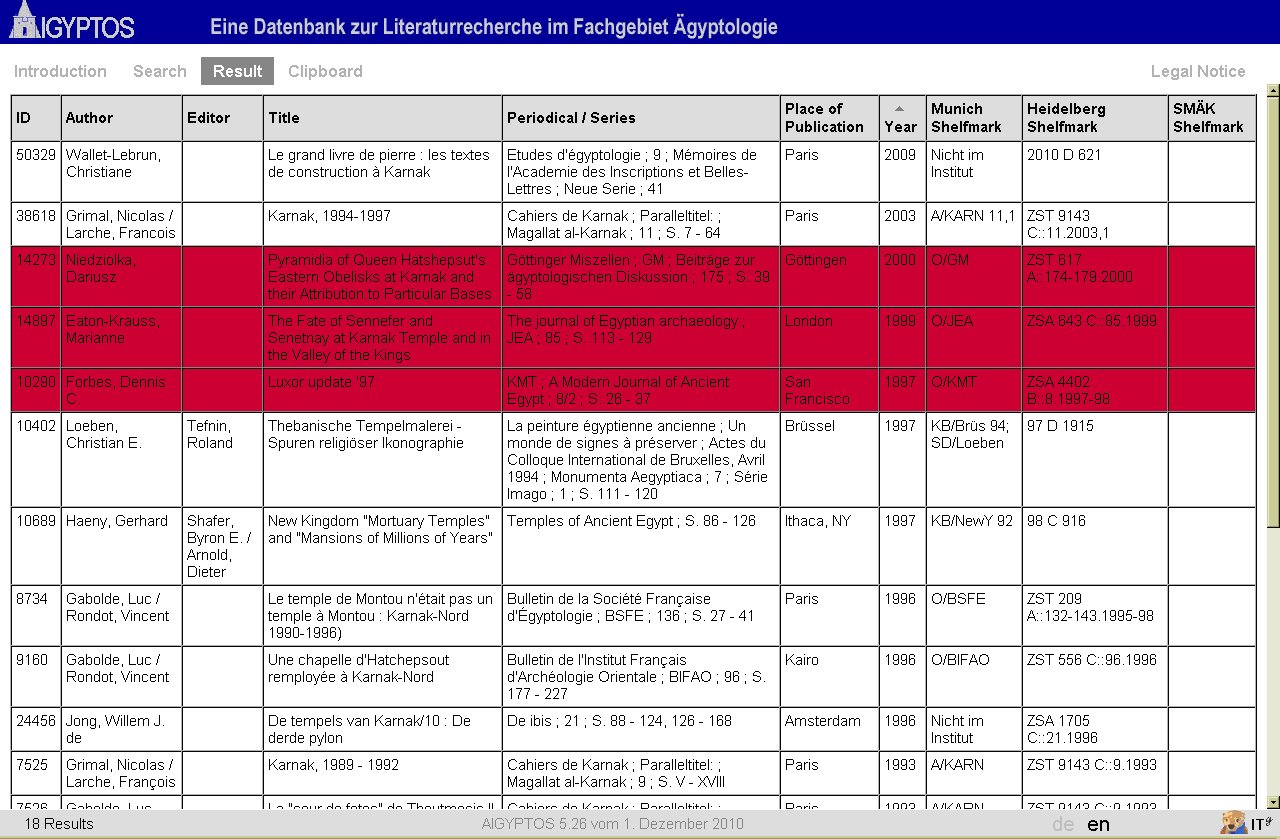 Aus der Übersichtstabelle heraus können Sie zudem durch Klick mit der rechten Maustaste einzelne Titel (diese erscheinen dann rot markiert, siehe Abbildung 11) in die Merkliste übernehmen, die in einem separaten Reiter zur Verfügung steht und fortlaufend für alle ausgewählten Dokumente die Vollanzeige, also sämtliche Feldeinträge, bietet (siehe Abbildung 12).If you want to get a list of the details for more than one record, you can right-click single records in the table to select them for the clipboard. The selected records are now marked in red (see figure 11). If you want to select all records in the table, you can do so by right-clicking the headline of the table. When you click the [Clipboard] tab now, you will see the full list with all the selected records in detail (see figure 12).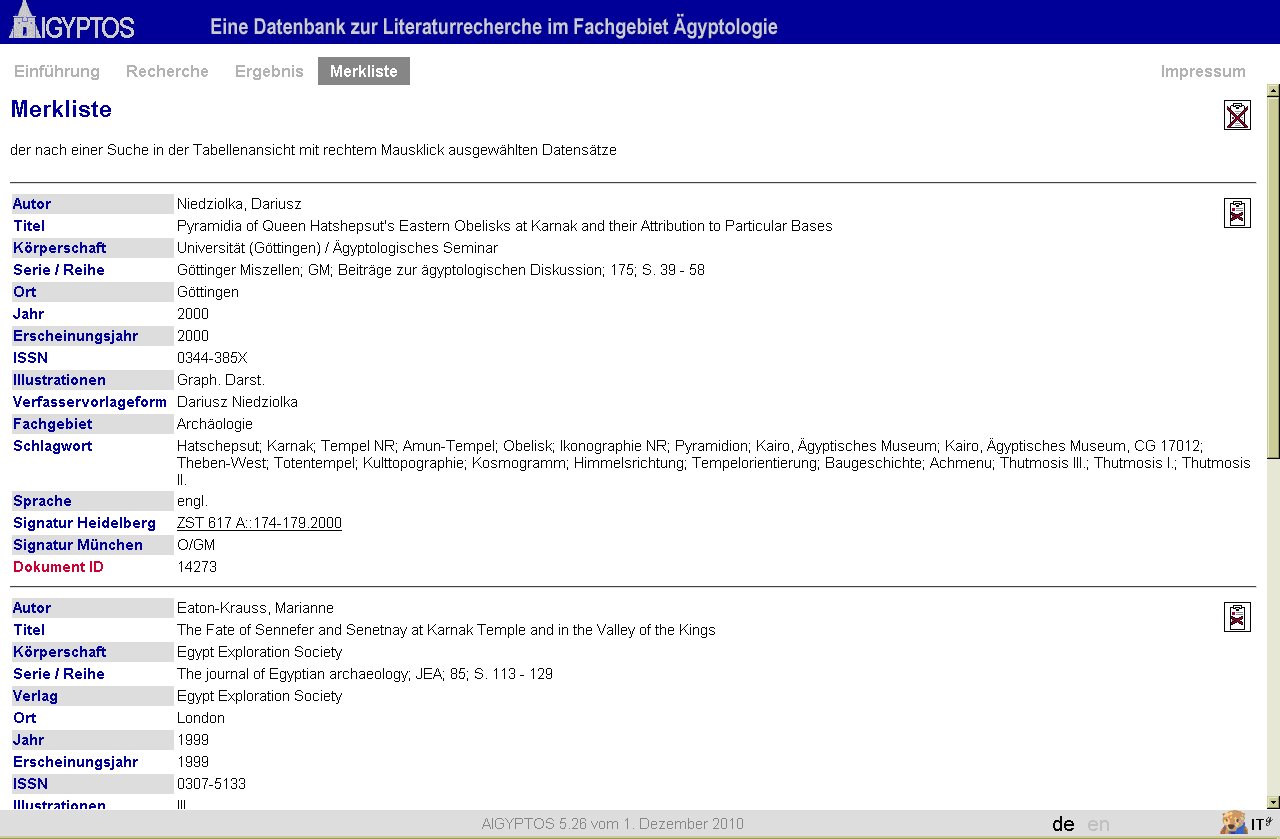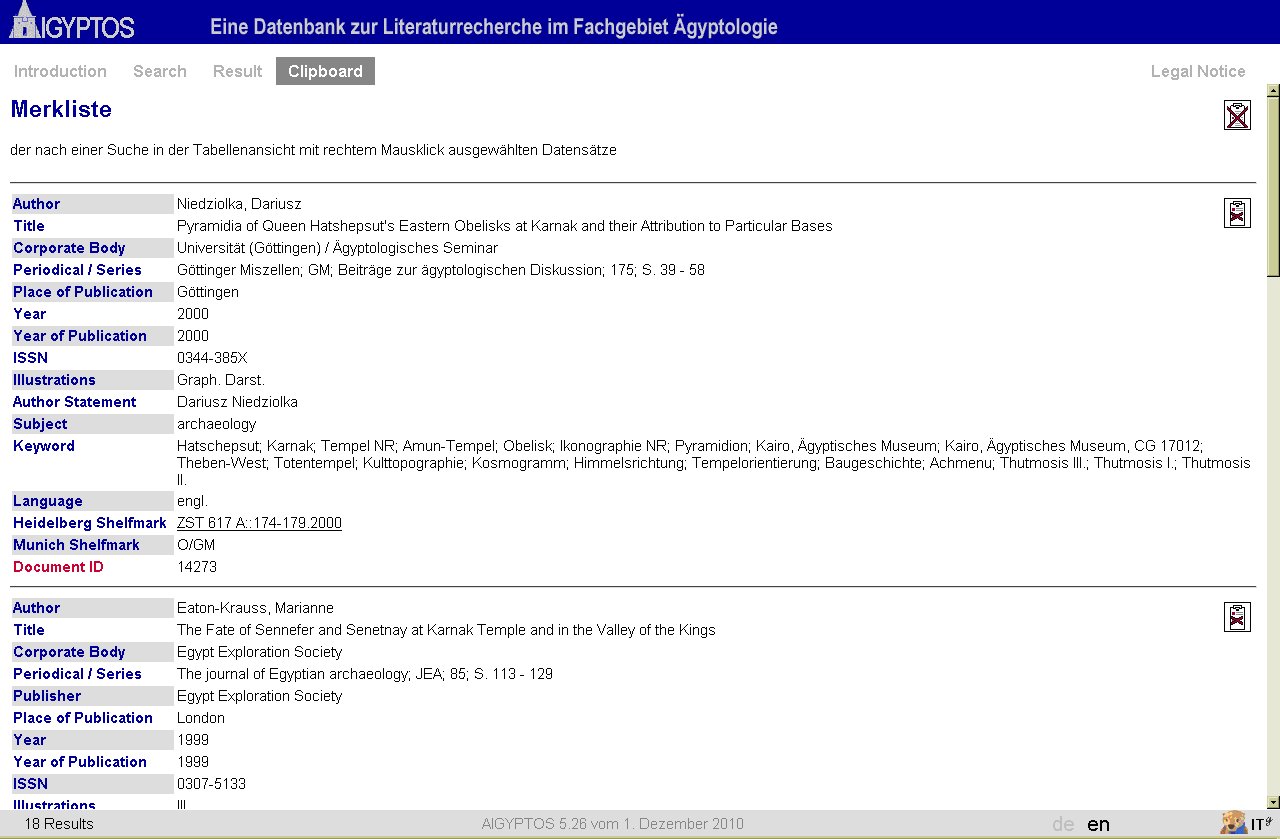 Die Merkliste merkt sich dabei alle markierten Treffer, auch wenn Sie eine weitere Suche starten. Gelöscht wird die Merkliste entweder durch manuelles Entfernen einzelner Titel (durch Klick auf die entsprechende SchaltflächeThe clipboard accumulates and keeps the selected records even when you start a new query (as long as you don't reset the application by pressing F5). You can delete single records from the clipboard by clicking the respectiverechts neben jedem Eintrag), durch manuelles Löschen der gesamten Liste (durch Klick auf die entsprechende Schaltflächebutton to the right of every record, or you can clear the whole clipboard by clicking the respectiveoben rechts im Fenster) sowie durch Zurücksetzen der Suche durch die Taste F5.button in the upper right corner of the tab. By hitting the F5 key, the clipboard will also be cleared.
4. Weitere Hinweise
4. Further Information
Ausleihe
Book Request
In der Dokumentvollanzeige und in der Merkliste können Sie durch Klick auf die Einträge im Feld [Signatur Heidelberg] direkt in das entsprechende Dokument im Onlinekatalog der Universitätsbibliothek Heidelberg wechseln. Falls das Werk über den Bibliothekslieferdienst SUBITO lieferbar ist, erscheint ein entsprechender Link links oben im Fenster des Heidelberger Katalogs. Nähere Informationen zur Bestellung und zu den Preisen bei SUBITO erhalten Sie hier.Literature found in AIGYPTOS can be ordered via inter-library loan from the Heidelberg University Library. If you have found a book or an article in AIGYPTOS and want to order it, you can do so by clicking the entry in the [Heidelberg Shelfmark] field. A new browser window will appear showing the site of the online catalogue of the Heidelberg University Library containing the main record data. By clicking the bold text link within these record data, a site will show up containing the complete data of the book you want to order. Now you can use the [Subito] link in the upper left box on the site to place your order. If the [Subito] link does not show up, the book or article is not available for delivery. For further information on the ordering procedure and pricing, see their information site.
SUBITO
Sprachauswahl
Language Selection
In der Mitte der unteren Leiste finden Sie eine deutsche und eine britische Flagge, die es Ihnen erlauben, zwischen deutscher und englischer Benutzeroberfläche zu wechseln. Die Inhalte der Datenbankfelder bleiben dabei in deutscher Sprache, außer in den Feldern [Schlagwort] und [Fachgebiet], für die es jeweils eine deutsche und eine englische Version gibt, die je nach Sprachauswahl automatisch angepasst werden.In the middle section of the footer bar, you find a German and a British flag that allow you to switch between the German and English languages at any time. The entries of the database fields basically remain in German except for the fields [keyword] and [subject] that adapt to the chosen language.
Zu den verwendeten Sonderzeichen
Special characters
Für die Eingabe ägyptischer Begriffe verwenden wir den Transliteration Font des Programmes WinGlyph. Bei der Umsetzung in HTML Format zur Übertragung im WWW werden diese Sonderzeichen nun allerdings nicht mehr korrekt dargestellt. Um bei den als Volltextfeld definierten Titelangaben Übertragungsfehler zu vermeiden, wurden hier alle Sonderzeichen entfernt und die betroffenen Begriffe lediglich lautlich, nach ägyptologischer Konvention, umschrieben. Im Feld Schlagwörter, das aus einzelnen indizierten Einheiten besteht, wurden die Einträge in Sonderzeichen (fast ausschließlich in Transliteration) belassen. Die so geschriebenen Begriffe sind im Index vorhanden und können problemlos aus diesem zur Recherche übernommen werden, allerdings werden die Zeichen in ihrer normalen Tastaturbelegung dargestellt, nicht in Umschrift (einen Überblick über die Tastaturbelegung finden Sie unten).We have transcribed Egyptian terms with the Glyph Transliteration Font. Regrettably, it is currently not possible to display these characters correctly after processing them into HTML format. To avoid errors during the transfer of the data we have decided to remove all special characters from the [Title] field. The terms in question are now phonetically transcribed in Latin characters. In the field [Keywords], we have kept the special characters. The keywords written in one of the special fonts (almost all in the WinGlyph transliteration font) can be displayed in the index list and can be used for queries but they appear in their normal keyboard settings, not in the special font setting (an overview of the keyboard settings and the corresponding special characters of the three fonts is shown below).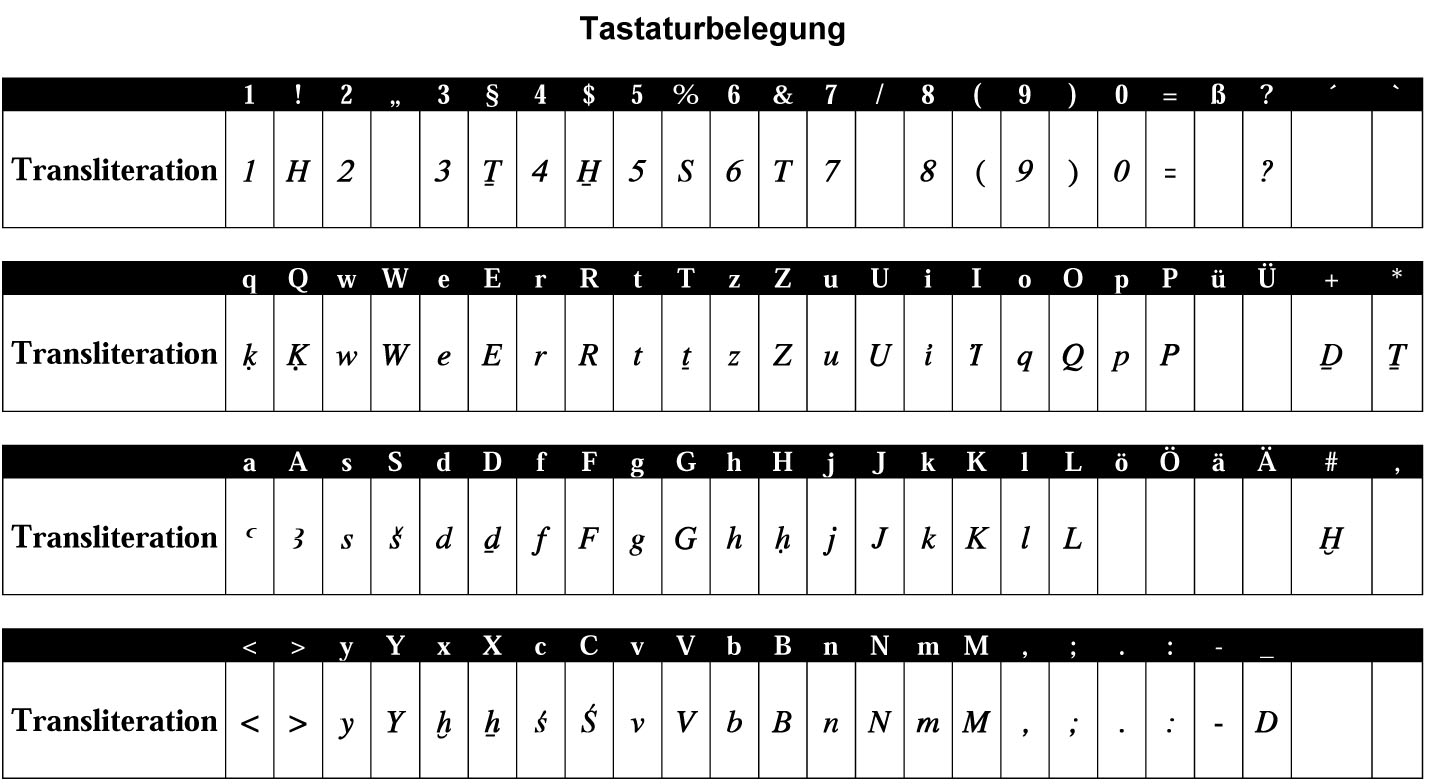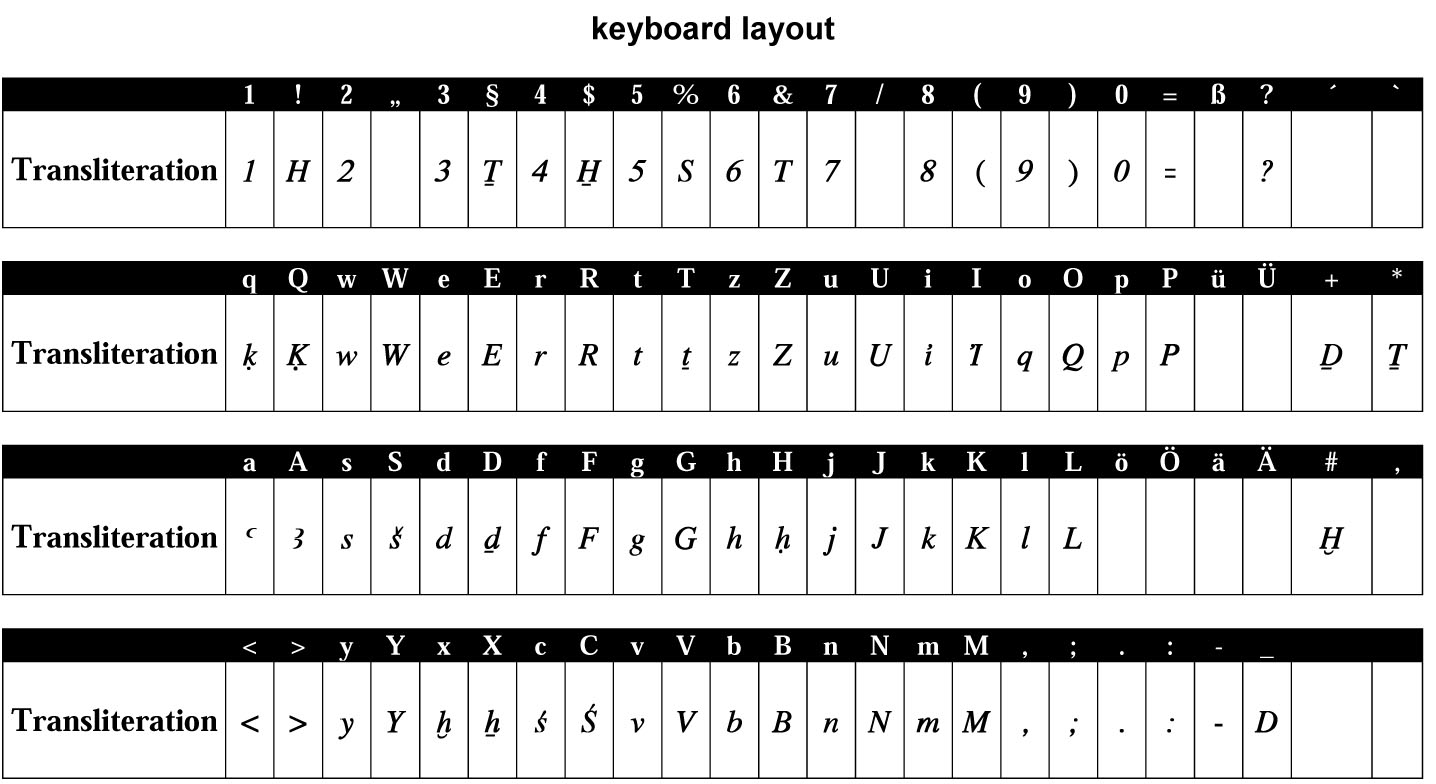 Anmerkungen zum System der Schlagwortvergabe
Keyword System
Die Ägyptologie kennt keinen verbindlichen Thesaurus. Ausgehend vom Lexikon der Ägyptologie entwickelten wir daher ein eigenes detailliertes Schlagwortsystem für AIGYPTOS.There is no fixed thesaurus in Egyptology. Therefore we have developed our own detailed keyword system for AIGYPTOS. Our starting point was the Lexikon der Aegyptologie
Das Lexikon der Ägyptologie stellt dabei das Grundgerüst dar, um das herum unser Schlagwortsystem aufgebaut ist. Soweit es inhaltlich sinnvoll ist, werden die Begriffe aus den Indices des Lexikons verwendet, wo dies nicht möglich ist - z.B. weil das Lexikon für den angesprochenen Sachverhalt überhaupt keinen Begriff kennt - wird der Katalog der Schlagwörter um einen von uns kreierten Begriff ergänzt. Dieser muss natürlich so gewählt sein, dass er sich nicht nur korrekt in das Gesamtsystem einfügt, sondern dass er auch ägyptologisch etabliert ist.The Lexikon der Aegyptologie gives us a basic framework around which our keyword system is built up. When appropriate, we use the terms from the indices of the Lexikon. If that is not possible - e.g. when there is no convenient expression at all in the Lexikon- we supply a new term. Of course these newly created keywords have to fit into the system as a whole and they must be well known in the field of Egyptology.
Ein sehr großer Teil der Abweichungen vom Lexikon ist darin begründet, dass große Datenmengen besser strukturiert werden müssen, um für den Benutzer sinnvolle Ergebnisse zu erzielen; ein Schlagwort "Stele" oder "Tempel" z.B. würde mir schon nach kurzer Eingabezeit eine so große Treffermenge liefern, dass ich diese Information kaum mehr sinnvoll auswerten könnte. Bei einer Reihe von Begriffen - insbesondere bei solchen, die große Denkmälergruppen bezeichnen - führten wir daher eine zeitliche Unterteilung nach den in der Ägyptologie üblichen Zeitperioden ein. Diese Schlagwörter sind nach dem Schema "Begriff und Zeitkürzel" gebildet. Folgende Zeitkürzel finden dabei Verwendung:Big data pools require a different structure from the Lexikon to enable a satisfactory retrieval; e.g. a keyword "stela" or "temple" would result in hundreds or even thousands of documents; processing this data would hardly be possible. Therefore we introduced a subdivision into historical periods for keywords denoting large-scale groups of monuments. Those keywords follow the pattern "term plus abbreviation of the time period". We have used the following abbreviations:
V.gesch.

PDP

=

Vorgeschichte (Anfänge bis Dynastie 0)

Predynastic Period (beginnings up to dynasty 0)

F.zt.

EDP

=

Frühzeit (Dynastie 1-2)

Early Dynastic Period (dynasty 1-2)

AR

OK

=

Altes Reich (Dynastie 3-6)

Old Kingdom (dynasty 3-6)

1.Zw.zt.

FIP

=

1. Zwischenzeit (Dynastie 7-11 [Reichseinigung Mentuhotep II.])

First Intermediate Period (dynasty 7-11)

MR

MK

=

Mittleres Reich (Dynastie 11 [Reichseinigung Mentuhotep II.] -12)

Middle Kingdom (dynasty 11 [starting with the reunification of Egypt in the reign of Mentuhotep II] -12)

2.Zw.zt.

SIP

=

2. Zwischenzeit (Dynastie 13-17)

Second Intermediate Period (dynasty 13-17)

NR

NK

=

Neues Reich (Dynastie 18-20)

New Kingdom (dynasty 18-20)

3.Zw.zt.

TIP

=

3. Zwischenzeit (Dynastie 21-25)

Third Intermediate Period (dynasty 21-25)

Sp.zt.

LP

=

Spätzeit (Dynastie 26-30)

Late Period (dynasty 26-30)

P.zt.

PP

=

Ptolemäerzeit (332-30 v.Chr.)

Ptolemaic Period (332-30 BC)

R.zt.

RP

=

Römerzeit (30 v.Chr.-395 n.Chr. [römische Reichsteilung])

Roman Period (30 BC-395 AD [division of the Roman Empire])

K.zt.

CP

=

Koptische Zeit (nach 395 n.Chr.)

Coptic Period (after 395 AD)
Sie finden also beispielsweise ein Schlagwort Tempel NR oder Titel Sp.zt. Mit Hilfe des Index können Sie schnell und einfach feststellen welche Begriffe mit dieser zeitlichen Untergliederung versehen sind.Accordingly, we have keywords like "temple NK" or "title LP". The index list directs you to the keywords coupled with a period abbreviation.
Für Literatur zum islamischen und zum modernen Ägypten - die nicht zur Zielliteratur der Datenbank gehört! - gibt es die Schlagwörter Ägypten, islamisch und Ägypten, modern (ab Mohammed Ali). Für den nubisch-sudanesischen Raum wird ebenso verfahren mit Nubien, islamisch und Nubien, modern (ab der englischen Besetzung des Sudan im späten 19. Jh.).For publications concerning Egypt during the Islamic period (Medieval and Ottoman period) we use the keyword "Egypt, Islamic". The keyword "Egypt, modern" refers to Egypt in modern times (beginning with Mohammed Ali). In the same way "Nubia, Islamic" and "Nubia, modern" (beginning with the English occupation of the Sudan in the late 19th century) refer to the Nubian-Sudanese region. Please keep in mind: the Islamic and modern periods have only marginally been included in AIGYPTOS.
Zwei Sonderfälle müssen hier noch kurz angesprochen werden:Two special cases are worth mentioning briefly:
Manchmal kommt es vor, dass bei einem Begriff, der eigentlich zeitlich untergliedert ist, zusätzlich der Begriff alleine als Schlagwort vorhanden ist; so gibt es z.B. das Schlagwort Tempel. Dies geschieht dann, wenn es aus inhaltlichen Gründen unmöglich ist, bei einem bestimmten Werk eine zeitliche Zuordnung für das entsprechende Schlagwort vorzunehmen.Sometimes you will find a keyword, which is normally specified by an abbreviation of the period without any additional abbrevation; e.g. there is the keyword "temple". In these cases it was impossible to extract a time period from the publications in question.
Außerdem gibt es Schlagwörter, die mit dem Zusatz "allg." für "allgemein" versehen sind, z.B. Tempel, allg. oder Wirtschaft, allg. oder Sprache, allg. Diese Schlagwörter werden dann vergeben, wenn in dem betroffenen Werk ein allgemeiner Überblick über diesen Bereich gegeben wird, wenn es sich also beispielsweise um Literatur zu ägyptischen Tempeln ganz generell handelt oder wenn eine Einführung in die mittelägyptische Grammatik angestrebt wird und nicht die Behandlung eines philologischen Einzelproblems.There are also keywords with the addition "in general", e.g. "temple, in general" or "economy, in general" or "language, in general". These keywords are used when the publication in question conveys a very general overview concerning this keyword, if e.g. the author provides a survey of Egyptian temples or if the economy of Egypt is treated as a whole, or if an introduction into Middle Egyptian language is aimed at.
Auch für sogenannte Rand- oder Nachbargebiete musste eine bessere Form der Aufarbeitung entwickelt werden als sie das Lexikon bietet; dies geschieht durch das Voransetzen entsprechender Adjektive vor die eigentlichen Schlagwörter - Voranstellung deshalb, weil auf diese Art und Weise im Index alle für den jeweiligen Bereich verwendeten Begriffe hintereinander sortiert angezeigt werden und man so bequem und schnell einen Überblick über diese Schlagwortgruppen bekommt.For related disciplines, such as Nubian and Coptic studies, a more precise processing had to be developed than in the Lexikon. In these cases we prefixed the keywords with appropriate adjectives. This prefix enables a quick overall view of all keywords related to a special discipline with the help of the index list.
Der Bereich Nubiologie und Meroitistik wird abgedeckt durch Schlagwörter mit "Nubisch" (Anfänge bis kurz vor die Dynastie 25) bzw. "Meroitisch" (umfasst die napatanische und die meroitische Zeit!) bzw. "Post-meroitisch" (350 n.Chr. bis zur Christianisierung) bzw. "Christlich nubisch". Sie finden also eine Nubische Architektur neben einer Meroitischen Architektur etc.Nubian and Meroitic studies are covered by keywords with the prefix "Nubian" (which covers the beginnings up to shortly before dynasty 25), "Meroitic" (which refers to the Napatan and the Meroitic period!), "Post-Meroitic" (350 AD up to Christianization), "Christian Nubian". Thus, the keyword "Nubian architecture" as well as "Meroitic architecture", etc. can be found.
Spezifisch Koptisches - verstanden als christlich Ägyptisches - wird gekennzeichnet durch vorangestelltes "Koptisch" (Beispiel: Koptische Sprache).All material related to Christian Egypt is prefixed by the adjective "Coptic", e.g. "Coptic language".
Insgesamt betrachtet ist unser Schlagwortsystem um Einiges detaillierter als die Stichwörter des Lexikons. So kann man z.B. auch gezielt nach Museen suchen, bzw. sogar nach einzelnen Stücken, z.B.: Boston, Museum of Fine Arts bzw. Boston, Museum of Fine Arts 03.1955.All in all our keyword system is more detailed than the entries in the Lexikon der Aegyptologie. In AIGYPTOS you can even look for museums and single objects, e.g. "Boston, Museum of Fine Arts" resp. "Boston, Museum of Fine Arts 03.1955".
Die Nummern der einzelnen Stücke werden dann eingegeben, wenn in dem entsprechenden Buch oder Artikel dieses Objekt, bzw. diese Objekte, so eingehend behandelt werden, daß eine relevante Information darüber zu finden ist.Object numbers are used in those cases when relevant information to the object in question can be found in the publication.
Vergeben werden die Schlagwörter nach dem Prinzip der Häufelung, um so möglichst viele potentiell vorstellbare Suchanfragen, bzw. Suchebenen, abdecken zu können. Das Spektrum der verwendeten Begriffe geht dabei von allgemein bis sehr speziell. Neben einem allgemeineren Begriff wie Literatur NR steht also z.B. zusätzlich Wenamun; oder der weite Begriff Sprache kombiniert sich mit dem engeren Syntax und dem schon sehr speziellen Relativsatz.The keywords are allocated according to a principle of accumulation in order to allow as many search options as possible. Therefore the spectrum of keywords used ranges from general to very specific: In addition to a general keyword like "literature NK" you will find the much more specific "Wenamun"; or the very vague keyword "language" can be combined with "syntax" and the very specific "relative clause".
Nehmen Sie sich am Anfang etwas Zeit und scrollen Sie durch den Index der Schlagwörter; Sie werden dann schnell mit dem System vertraut werden und können durch eine zielgenaue Recherche viel Zeit bei der Literatursuche sparen!By taking some time in the beginning to scroll through the index list of the keywords we hope that you will soon become familiar with the system!